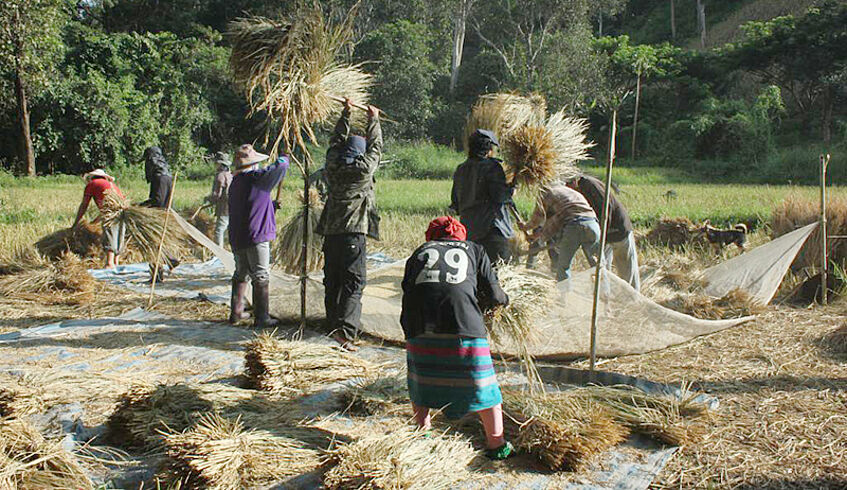 Mobilities and changing rice production systems in Thailand and the Philippines (MORISA)
Patrick Sakdapolrak (Coordinator), IfGR, University of Vienna, Austria
Mathias Becker and Carlos Angulo, INRES, University of Bonn, Germany
Panomsak Promburom, CARSR, Chiang Mai University, Thailand
Manuel Jose C. Regalado, Philippine Rice Research Institute, Science City of Muñoz, Philippines

Funded by: Southeast Asia – Europe Pilot Joint Call for Mobility in the thematic areas of Environment, Health and Food von BMWFW (Österreich), BMBF (Deutschland), NSTDI & STI (Thailand), and DoST (Philippinen)

Duration: 03/2016 – 03/2017
Abstract
In the face of climate change and the verge of economic development, agricultural production systems in Southeast Asia are experiencing rapid transformation. Such trends can have both positive and negative impacts on farmer livelihoods and consequently on agricultural productivity and sustainability. Migration is considered a key process influencing agrarian change since enhanced migration flows can act as both drivers and consequences of the transformation of rural livelihoods. The MORISA project will focus on the interaction of human mobility and rice-based agricultural production systems. We hypothesize that different patterns of human mobility will differentially impact on rice-based agricultural systems. Based on the interdisciplinary expertise from social (migration research/ livelihoods vulnerability), natural (agronomy/ plant nutrition/ crop modelling/ regional agricultural assessment) as well as social-ecological science (human agro-environment interactions) and empirical insights from the Philippines and Thailand as two contrasting cases, the project seeks to:
1.) provide a knowledge base on the impact of past, current and emerging patterns of human mobility on Southeast Asian rice production systems,
2.) identify opportunities for multidisciplinary approaches to close knowledge gaps and
3.) lay the foundation for future collaborative research projects.
The project seek to reach its objectives through literature research, expert consultations and two interdisciplinary multi-stakeholder workshops which will link and expand current collaborative research networks in view of developing an integrated European-Asian project. By addressing the mobility-rice nexus the project takes up a phenomena which is not only of concern for the lives and well-being of millions of persons in rural Southeast Asia. It additionally focuses on a core food crop and a production system of great importance for global food security.